We get excited for the spookiest day of the year around here, and this Halloween Brie Cheese recipe is so simple to make.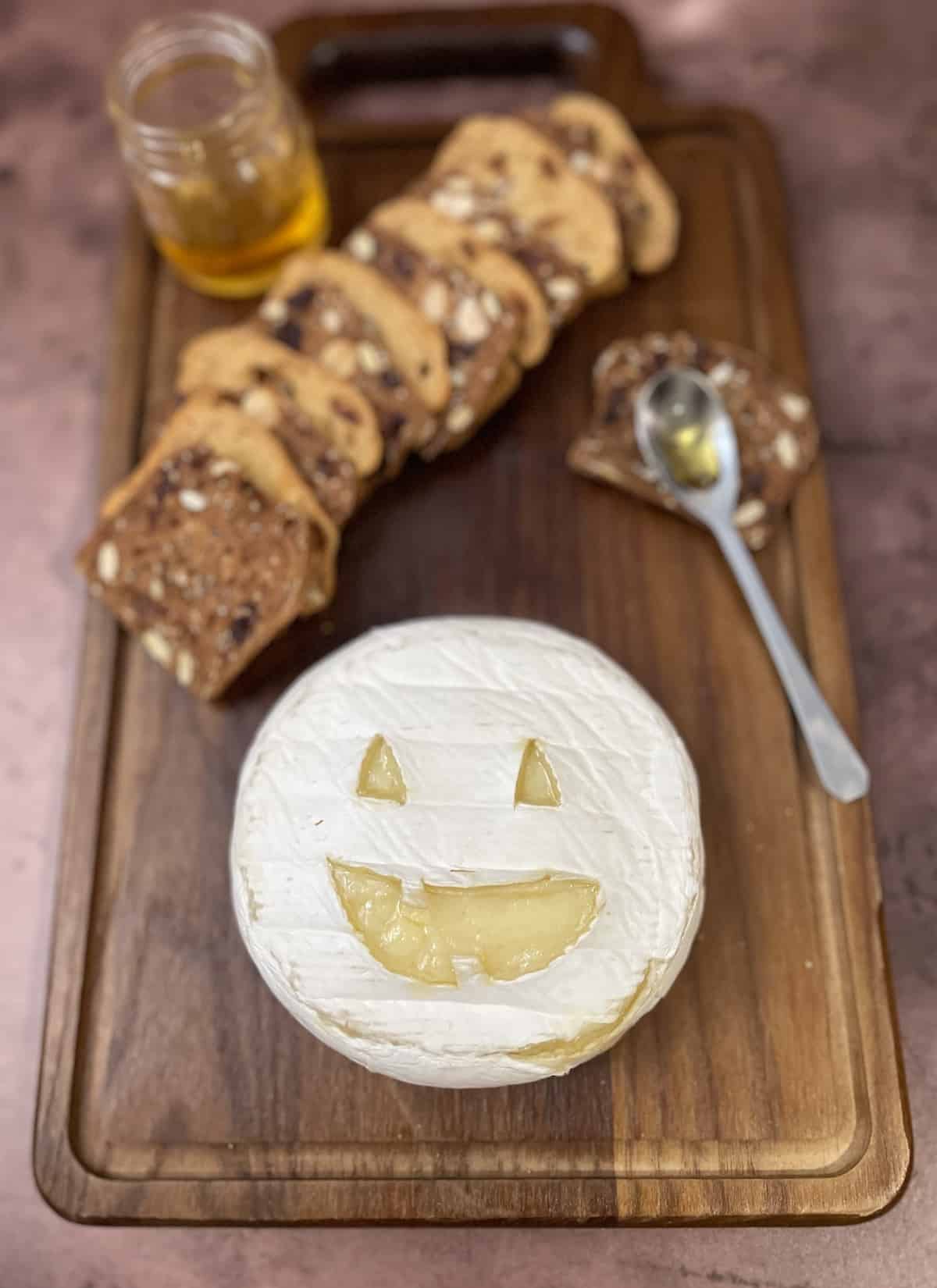 Whether you're hosting a gathering or going to a party, it's fun to arrive with an appetizer like this brie or something from this list of Halloween snacks.
It seems so many of the Halloween recipes are for sweets, but we like to begin the evening with savory Halloween foods.
Especially if your guests are drinking, serving food is important. Did you see these caramel apple jello shots and these pumpkin pudding shots? So fun!
When your guests are ready for something sweet, serve one of these amazing Halloween desserts, like these gravestone Halloween Brownie Bites or Spider Web Cookies. It's a long list so you're sure to find the perfect sweet treat!
🖤 Why We Love this Recipe
It's easy!
You'll need no additional ingredients to make it unless you want to add an optional glaze and the crackers or bread to serve with it.
See the recipe card below if you'd like to print this out.
🛒 What Goes Into This Recipe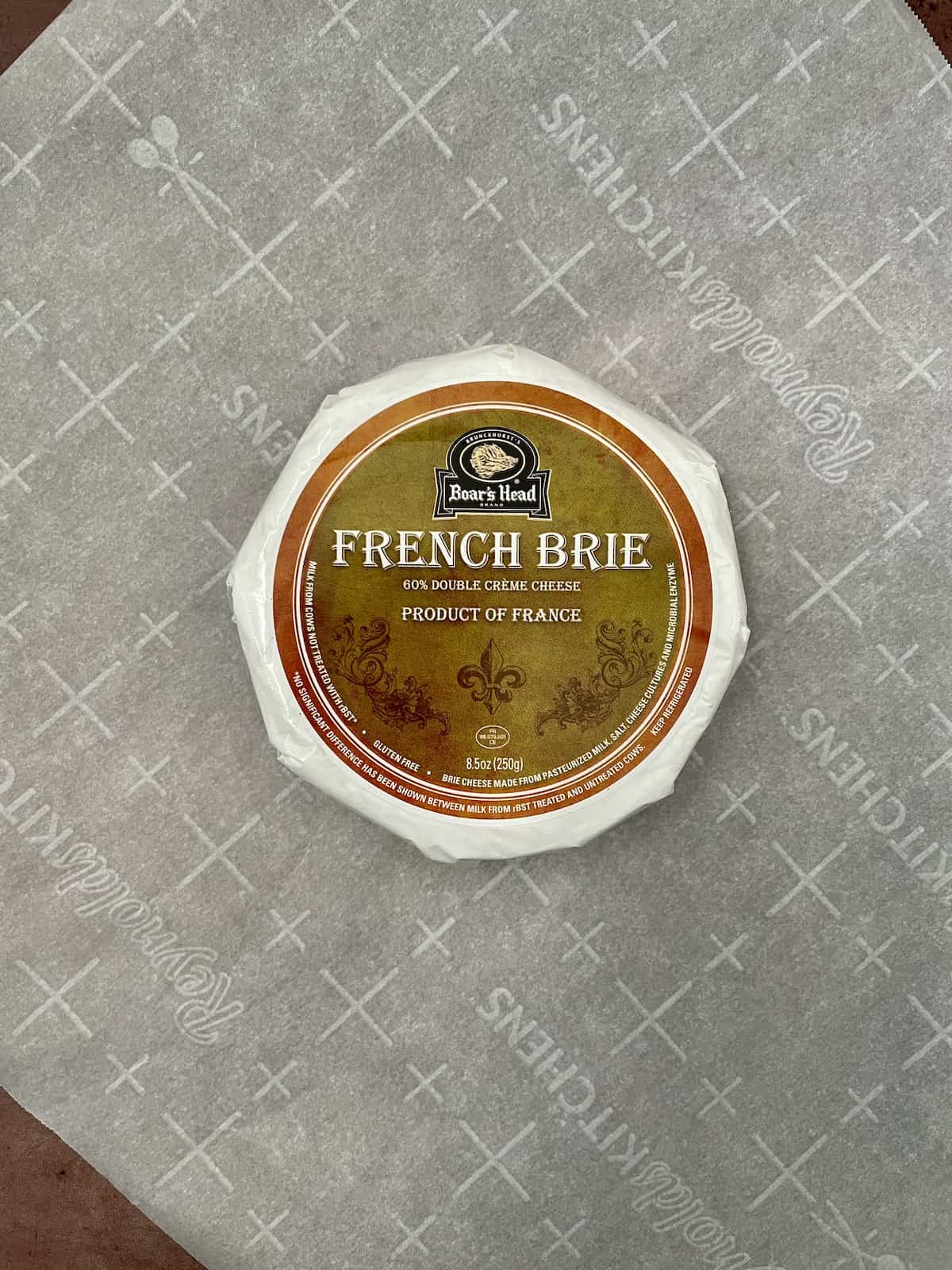 Brie Cheese
Crackers or bread for serving
🔪 Recommended Tools
Parchment paper or aluminum foil.
👩🏻‍🍳 How to Make Halloween Brie Cheese
Step 1: Preheat oven to 350 degrees.
Step 2: Spray baking sheet with non stick spray or line it with parchment paper or foil. It's not a bad idea to spray the liner, too, just in case the cheese sticks.
Step 3: Place the Brie on baking sheet.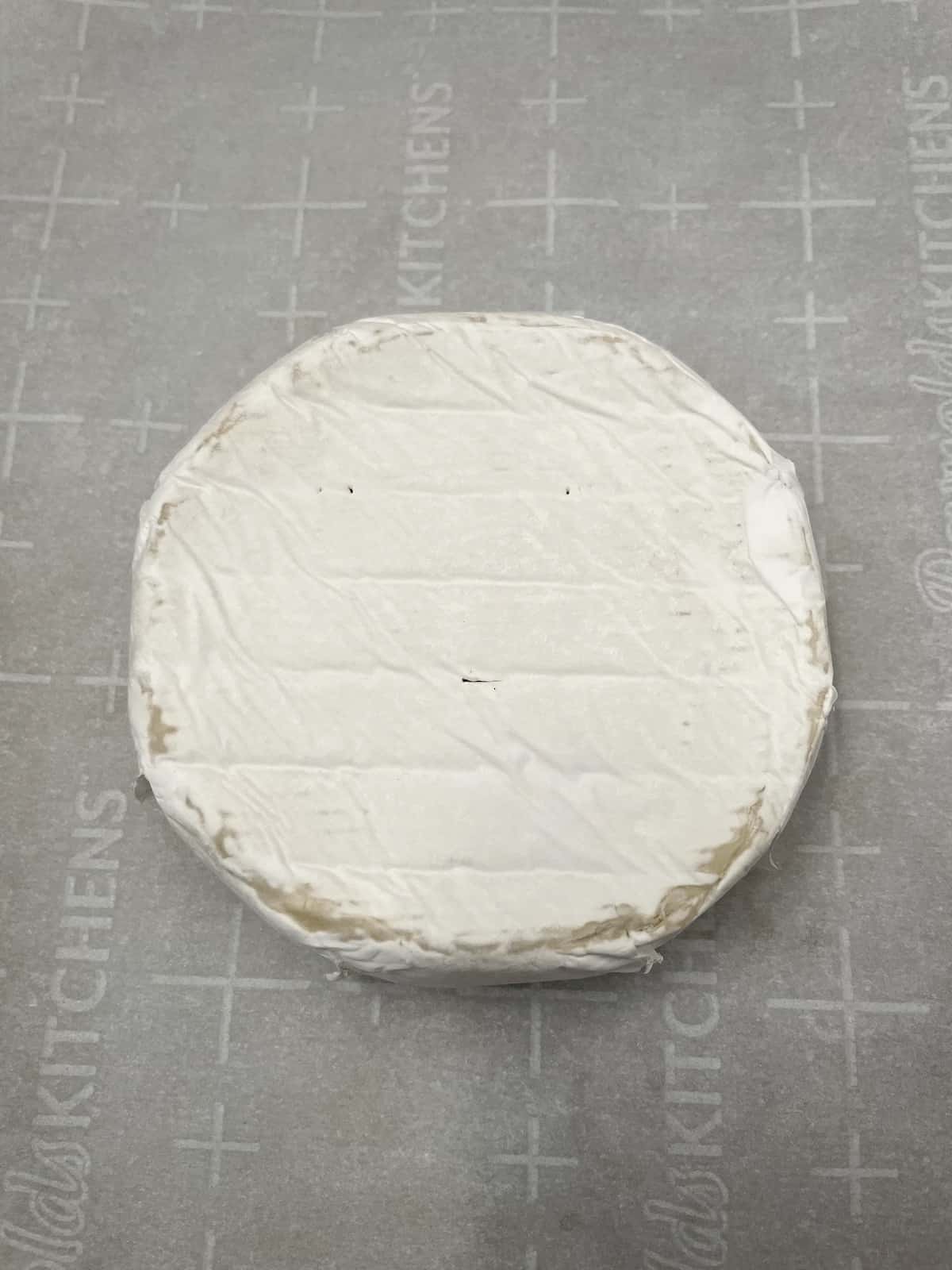 Step 4: Carve a Jack O'Lantern eyes into the Brie. I marked mine out with dots for the eyes and edges of mouth. The triangle eyes are easy.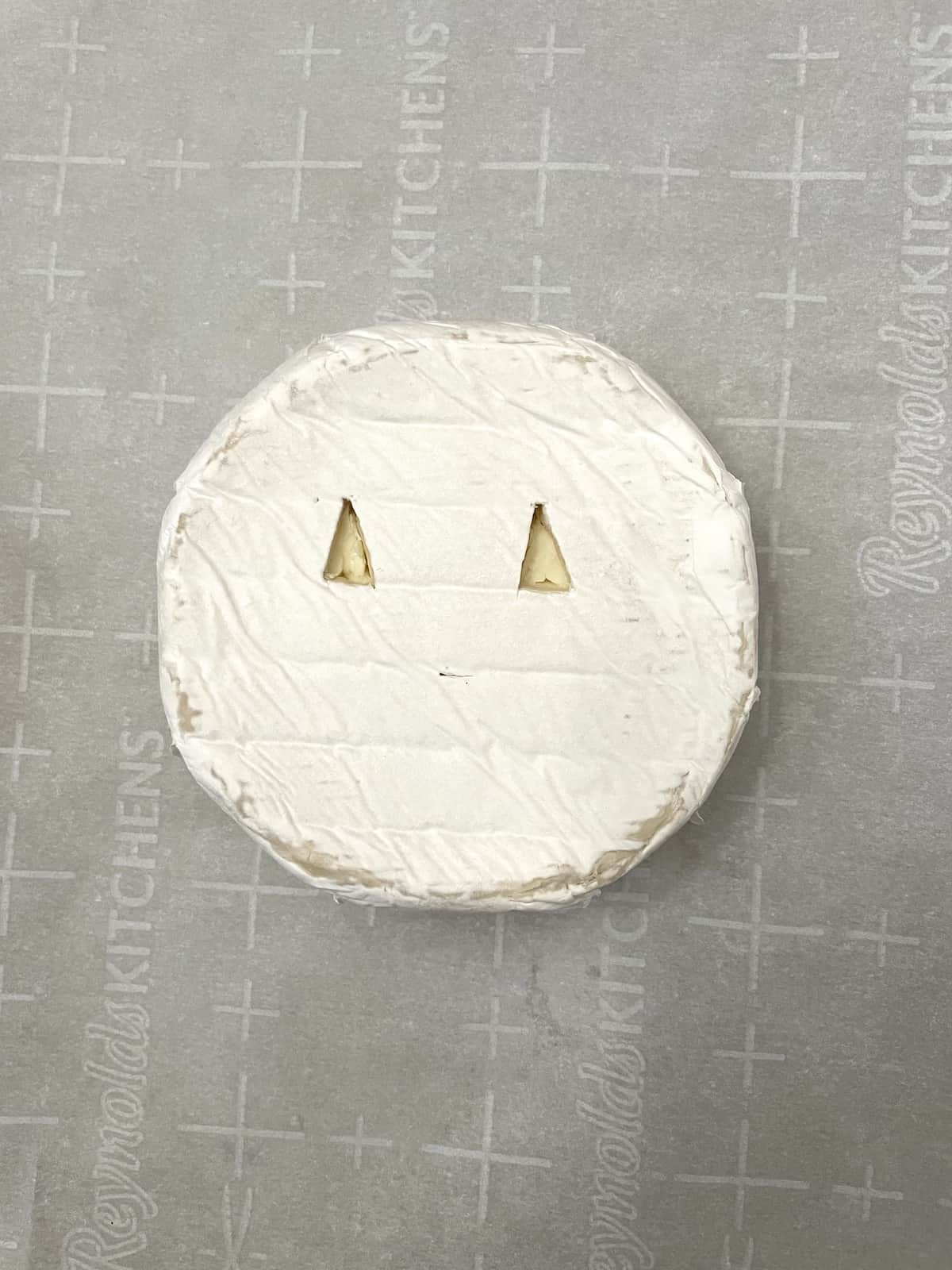 Step 5: Next, carve the mouth. Be careful as the teeth are very important and you don't want to cut them out. In fact, make them a little wider than you'd like so you can trim them to your liking.
You'll carve a little of the brie out when you remove the rind. I just put it back in as it will melt together anyway.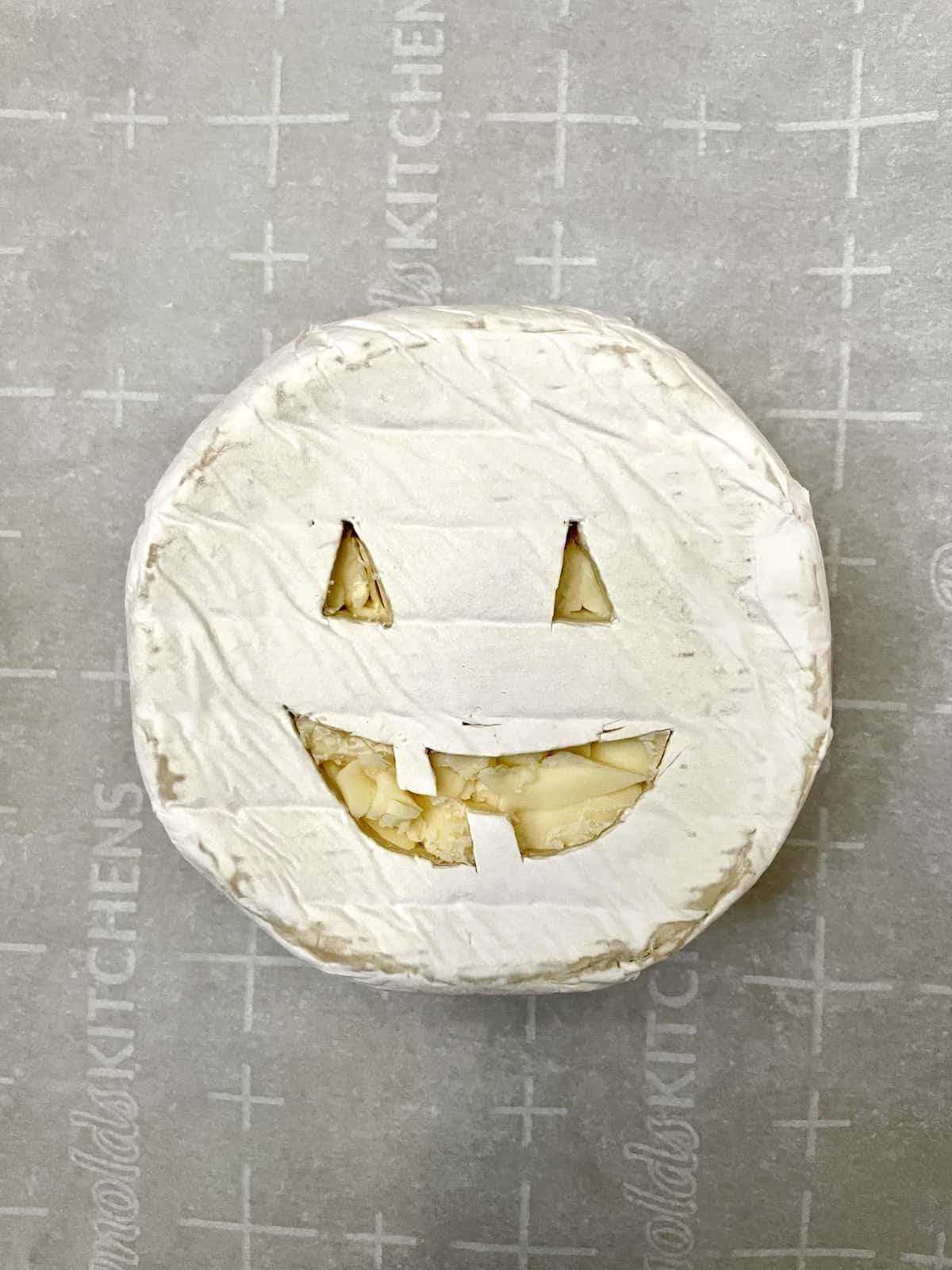 Step 6: Bake the Halloween Brie for about 10 minutes. Check on it at 8 minutes as oven times vary.
Serve with crackers or bread.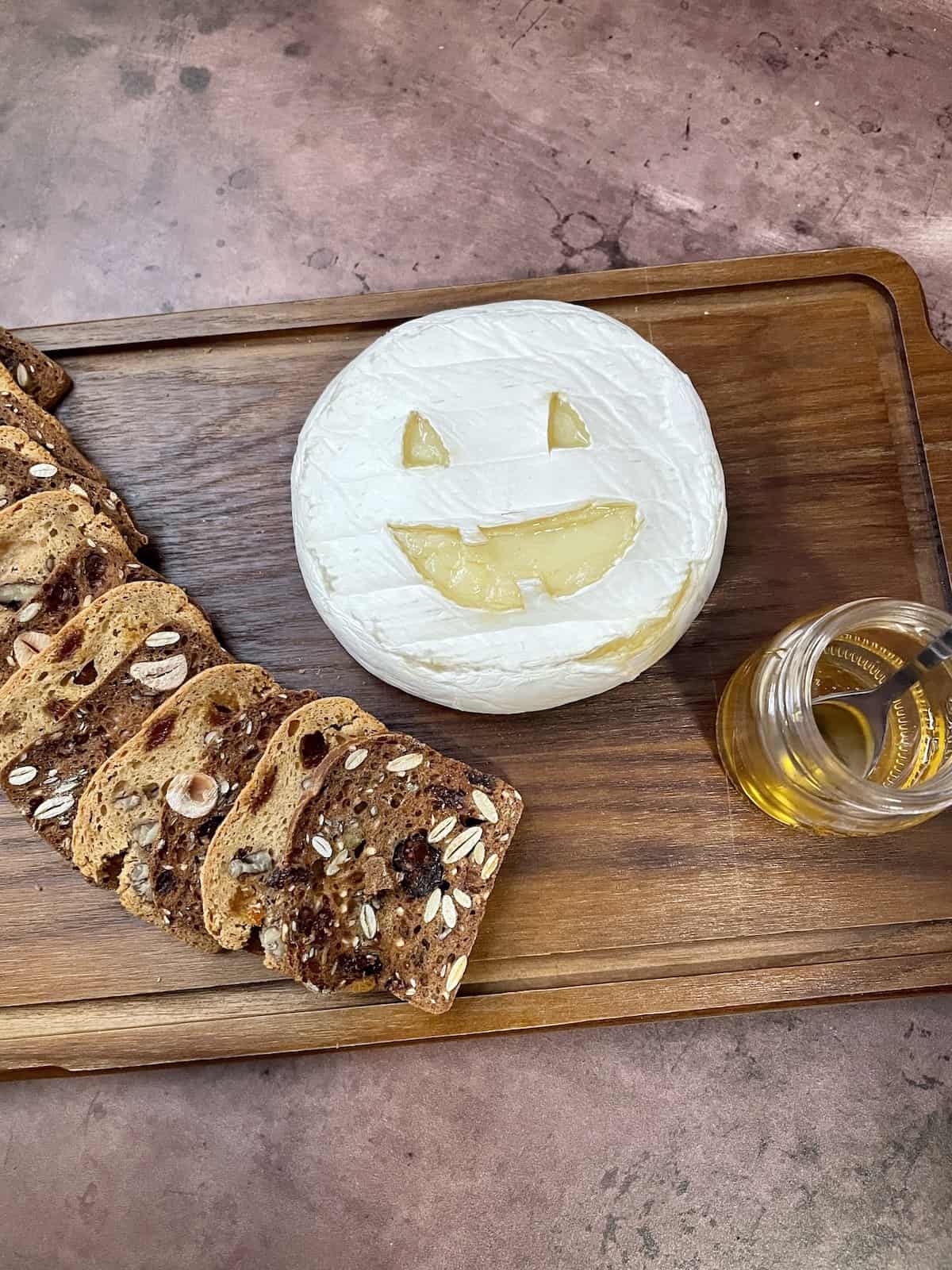 📖 Variations
We love honey or orange marmalade with Brie cheese, so you can spread a thin layer over the top once you've carved the face, before baking.
Any fruit spread will add sweetness, so try raspberry or strawberry next time.
You could also serve the Halloween Brie cheese alongside the honey or marmalade as we did this time.
Of course, you can carve out anything in this cheese, so why not try a Christmas tree or a heart for Valentine's Day?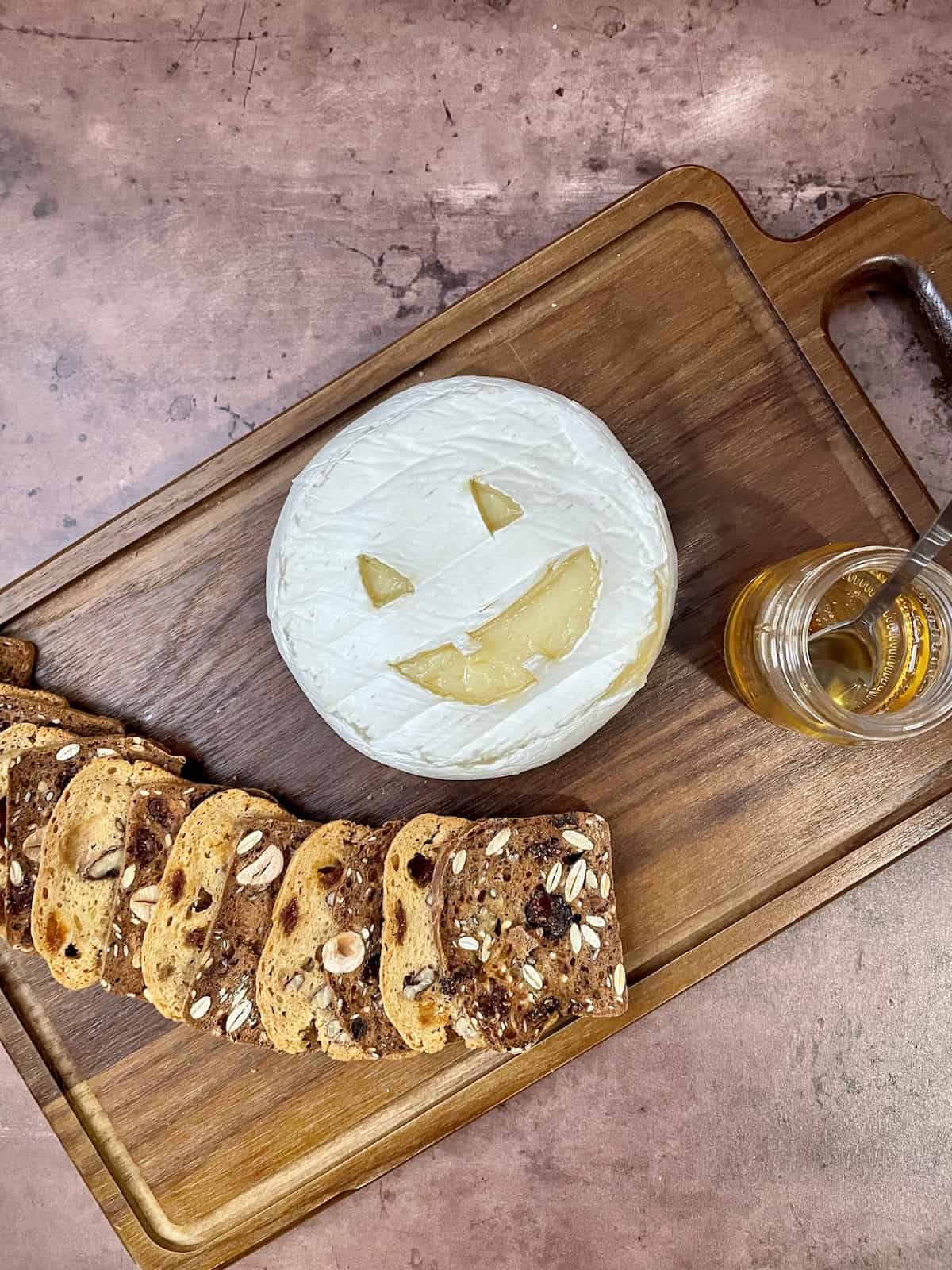 FAQ
Can I use a different kind of cheese?
If you can find a different variety of cheese that is in a round with the rind around it, you can certainly use it. I've seen goat brie lately, so that would probably be delicious.
Is it okay to eat the rind?
Yes! The rind is actually delicious and is supposed to be eaten along with the creamy cheese inside.
Which fruits pair best with Brie cheese?
I prefer berries, like blueberries or strawberries, but just about any fruit pairs well. Grapes are good, too.
💭 Top Tips
Don't worry about messing up this Halloween Brie cheese as you can always make the eyes or mouth larger. Worst case, you can flip it over and start again and no one will be the wiser!
Watch the brie as oven temperatures vary. You can tell the cheese is melted by gently touching the top. If it's very soft inside, it's ready!

More Halloween Recipes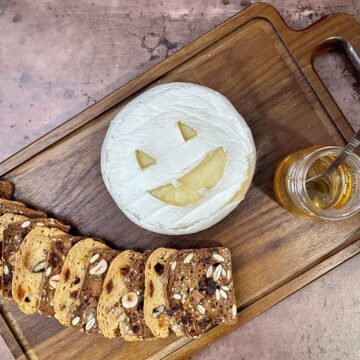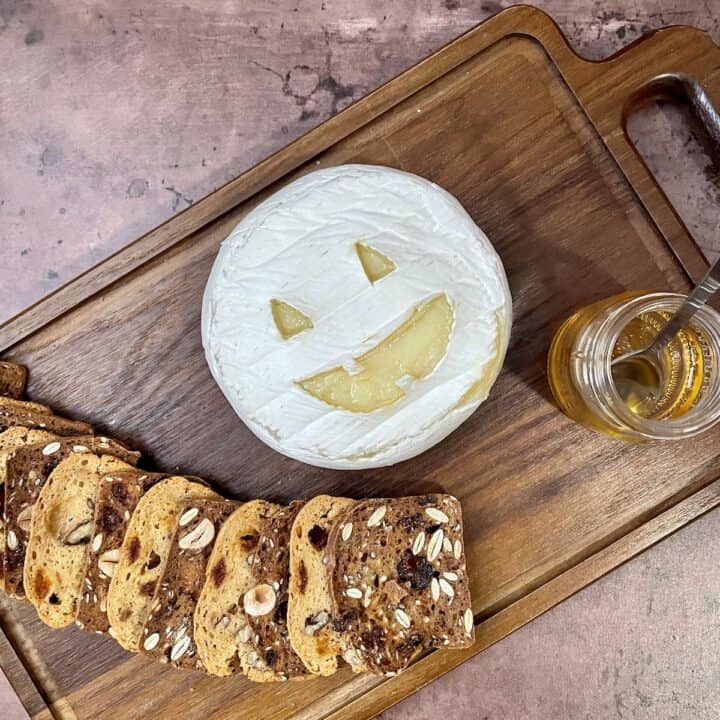 Halloween Brie Cheese
Print this Recipe
Pin this Recipe
Rate
Servings: 10 people
Calories: 80kcal
Instructions
Preheat oven to 350º

Prepare baking sheet.

Place Brie on baking sheet.

Carve Jack O'Lantern face in top of cheese. I marked mine out with dots for the eyes and edges of mouth. Don't worry about messing it up as you can make the eyes or mouth larger. Worst case, you can flip it over and start again and no one will be the wiser!

Bake for 7 minutes or until melty.

Serve with crackers or toasted baguette. Optional: serve with a small jar of honey, marmalade, red pepper jelly, or other sweet spread.
Nutrition
Serving: 1 | Calories: 80kcal | Carbohydrates: 0.1g | Protein: 5g | Fat: 7g | Saturated Fat: 4g | Polyunsaturated Fat: 0.2g | Monounsaturated Fat: 2g | Cholesterol: 24mg | Sodium: 152mg | Potassium: 37mg | Sugar: 0.1g | Vitamin A: 143IU | Calcium: 44mg | Iron: 0.1mg